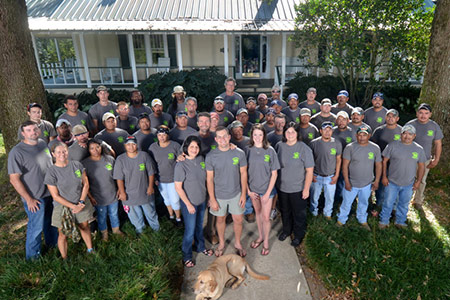 Our Story:
GreenForest Nursery, Inc. is located in Perkinston, MS at the intersection of Old Highway 26 and Wire Road West. It was established in June of 1983 and has been a successful, flourishing business ever since.
GreenForest Nursery, Inc. was founded by Dan Batson and is located on Batson family land that has been in the family for generations. The first trees Batson sold were taken from the surrounding woods, mostly yaupon and wax myrtle trees, and sold to clients the following summer in Birmingham, Alabama and Atlanta, Georgia to begin establishing cash flow and increase production numbers. By 1989, we had established inventory and had made a name for ourselves in the world of nurseries.
By the early 1990's, GreenForest Nursery began to expand in acreage and in varieties grown, one of those varieties being the Kathy Ann Yaupon holly. Sales to the west also ramped up, expanding our sales territory to Texas, Louisiana, and Tennessee. Through the 1990's, with housing at an all-time high, GFN's efforts to accommodate our customers was mindful expansion at a fast pace.
In 2005, Hurricane Katrina challenged us like never before. However, because of our unbelievably loyal staff, thoughtful customers, and other people, we recovered and were able to help others in the community and had our best year to date.
Even during the "Great Recession," because of principled financially sound business practices, GFN was able to maintain planting schedules. Additions to our staff have included two sales representatives and a production manager - all are tops in their fields. We are now back on track with a forty acre expansion that will take us to 180 acres of efficient growing area to give our customers plant material that they want and expect.
Dan Batson

President & CEO

Kathy Batson

Accounting

Jessica Lee

Office Manager & Shipping

Joseph Davenport

Eastern Sales

Brad Batson

Western Sales